Tattoo Artists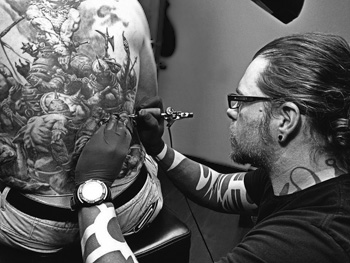 Terry Mayo - View Tattoo Gallery - Email Artist



Appointment Only

Terry can have a wait of six to nine months.

Email to book a consultation.

The Owner and one of CAT TATTOO's multi-award winning artists, Terry Mayo's interest in the creative arts and what would later develop into a successful Tattoo career began at an early age. Always drawing as opposed to playing with toys and dabbling in usual child activity, Terry was first exposed to the industry during the sixth grade.At the time Terry's attention was focused on the artwork of various artists who would inspire him to try different styles, some of these being CARtoons Magazine, (A Big Daddy Ed Roth publication) which advertised tattoo products in the back. "Along with Ed Roth's work it was the most edgy art I had ever seen." And it was these sort of magazine's along with comic book artist legends such as Frank Miller, Todd McFarlane, Sam Kieth, Jae Lee, and Frank Frazetta that later influenced Terry's own understanding of what looked on the 'edge'. With all this material to inspire his creativity, Terry ironically first began making money off his talents by receiving lunch money as payment for temporary tattoos and line work on kids at school, and thus Terry continued on to pursue and use his artistic abilities in several ways, "During High School I was hooked on comics. Learning to draw the human form doing most anything, I tried to break into the industry for years. Doing a small body of work, including a forty-plus page comic book of which the pages where fully painted, but it never got me where I wanted to be." Tattooing out of his house at twenty years old after being exposed to the Tattoo world but a year prior, Terry managed to finally get his foot in the door with the photos and full color comic book as examples of his artistic talents. Landing a job at Tigger's, for the next five years Terry would learn many lessons about the industry, and tattooing in general. Using everything he'd picked up from childhood to working in Tigger's shop, Terry Mayo opened CAT TATTOO at twentys-ix. "I wanted my studio to excel beyond what the present studios had to offer. CAT TATTOO was the first all custom tattoo studio in the Dallas, FT. Worth Metroplex. Spending two decades promoting and building my studio's reputation, CAT TATTOO is now a cornerstone of the tattoo industry for Dallas if not Texas."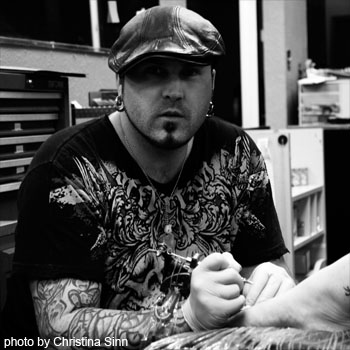 Aaron Grace - View Tattoo Gallery - Email Artist



Appointment Only

Aaron Grace directed his artistic talents in the Tattoo Industry 8 years ago in Louisville, Texas. Having a total of 15 years of Art experience extending back into high school and a major in Graphic Design, Aaron Grace's style has developed towards very abstract, bold and colorful pieces. He's influences are mostly painters, some of which include Picaso, Matese, and Dali. As well as Bugs, John Clue, and Mike Cole. "Its all about surviving, Tattooing is another way for an artist to make money and keep living creative." Aaron Grace is currently at Cat Tattoo in Addison, TX. If you'd like to make an appointment or are interested in his work feel free to send an email in the link provided or drop a line at Cat Tattoo.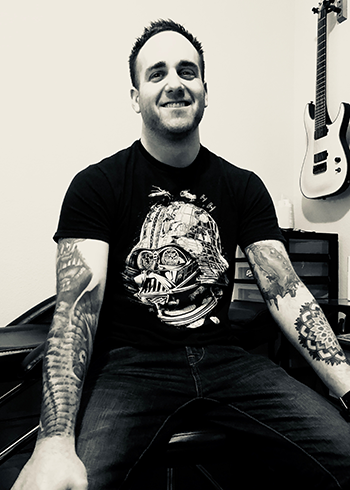 Yoni - View Tattoo Gallery - Email Artist



Availability for Consultations:

Sunday:12AM-8PM

Monday-Tuesday: 12AM-10PM

Friday-Saturday: 12AM-12PM

Yoni has invested in art and drawing since young childhood. He started around four years old and never stopped developing both his passion and his skill throughout grade school and college. He became interested in tattooing while getting some of his own work done in the Army. A couple of years after leaving the Army, Yoni found an open apprenticeship position with Terry Mayo and took advantage of the opportunity. Almost two years later Yoni has started working at Cat Tattoo. His artistic influences include Alex Grey, Chet Zar, Greg Simkins, H. R. Giger and Salvador Dali. His tattooing style includes Black and Grey Realism, Black and Grey Horror, Dotwork and Geometric pieces. Aside from tattooing he paints and creates digital art in his free time. Incorporating a broad range of artistic mediums, styles, and influences, Yoni strives to become a better artist every day.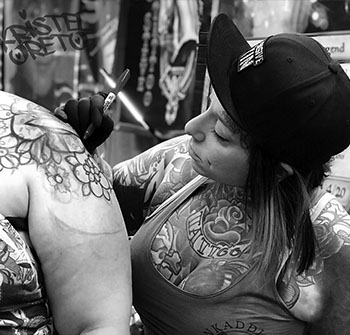 Kristel Oreto - View Tattoo Gallery - Email Artist



Availability for Consultations:

Wednesday & Thursday 12PM- 10PM

Kristel Oreto views the world through rose colored glasses. She loves street art, cute animals, and pop culture but she also enjoys the darker side of things. She started tattooing in 1999 in Tampa, Florida. She spent 2011 - 2018 tattooing in the city of brotherly love, Philadelphia. While traveling the country tattooing over the past 15 years doing tattoo expos, she fell in love with the city of Dallas and


Relocated in Jan 2019 and now calls Cat Tattoo home.





Kristel is known for her bright, colorful, and fully saturated tattoos with bold lines, and has an eagerness to take on difficult cover up projects. Let Kristel's vivid imagination run wild with your ideas or give her a challenge of covering up an existing tattoo or doing something fresh. Cute or creepy, in either case you are guaranteed a unique piece of personal art you will be sure to love.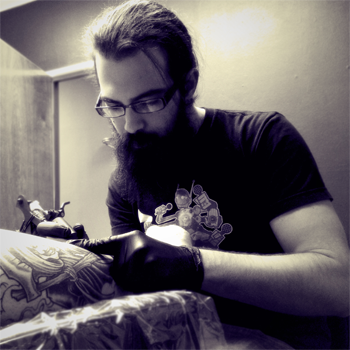 JON - View Tattoo Gallery - Email Artist



Appointment Only

Cell: 214-403-4329

Jon descends from a long line of troll hunters and goblin slayers. Incidentally he also keeps a necklace of goblin ears nearby at all times for good luck. He has loved art since childhood and has worked professionally as a sculptor, painter, and fabricator. Jon has always liked tattoos and even received a few before considering a career in tattooing to be possible. It was a product of opportunity being in the right place at the right time with the right work/art experience and it all fell together.

Influences include Terry Mayo, Memphis, and many of the artists coming through Cat Tattoo whom he has learned from and watched for years. Jon enjoys color and black and grey work, and prefers to remain versatile and diverse to keep from falling into a niche. Jon is currently at Cat Tattoo in Addison, TX. If you'd like to make an appointment or are interested in his work feel free to send an email in the link provided or drop a line at Cat Tattoo or Jon's Cell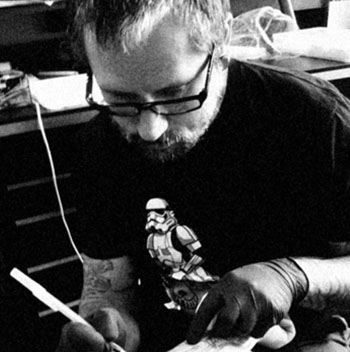 Joby Cummings - View Tattoo Gallery - Email Artist



Guest Artist

Appointment Only

Joby Cummings was born in Palm Springs, California shortly there after found himself growing up in rural Texas. After discovering his mom's art supplies at age seven he gave up his destiny as a prestigious rocket scientist and pursued the career of a starving artist. He then spent many years daydreaming, avoiding responsibilities and drawing instead of doing schoolwork. He was heavily influenced at a young age by classic lowbrow art and cartoons like Wacky Packages, Ed Roth, and early Disney animations.


Joby later went on to attend some obscure Jr College with hopes of becoming a top tier graphic designer. Fate would have it as he was distracted by the allure of the tattoo industry and found himself apprenticing in a local studio in Dallas, Texas. Thrown into the fast paced environment of a high volume tattoo shop in the early 1990s he would get his baptism by fire in illustration and design. Eight years later he found himself returning to graphic design realm. This move overlapped his tattoo career and eventually took precedent until late 2005. Joby had a "come to Jesus" moment and decided for his own sanity it was best he quit the corporate grind and move to Los Angeles in order to full fill his lifelong destiny as a professional beach bum/tattoo artist.


That lasted about 8 years and has just recently moved back to land where they filmed Robocop and take advantage of the benefits Texas has to offer.


Publications that have features his artist include: Tattoo Savage, International Tattoo, Skin Art, Tattoo Flash, and Inked - teNeues Publishing. His art also can be found in numerous clothing lines and t-shirt companies such as: Christian Audigier, Scanty Pajamas, Zissou & Spike, BCBG, Vertigo, Joie, ENK, West 49, HTFU, and Shirt.Woot. And of course dozens of articles and quick blurbs on a multitude of typography, t-shirt and poster blogs.


Joby often describes his art as pop culture meets lowbrow nestled in a extra dimensional cartoon that never existed, or did it. He likes to focus on combining elements that normally would not ordinarily be found together and he attempts to find harmony in these items and deliver them with a bit of humor and a nice dose of the bazaar.

Joby now resides in Los Angeles, California and makes trips to Cat Tattoo for short periods of time. If you're interested in booking with Joby, please send him an email and he will get back to as soon as he can.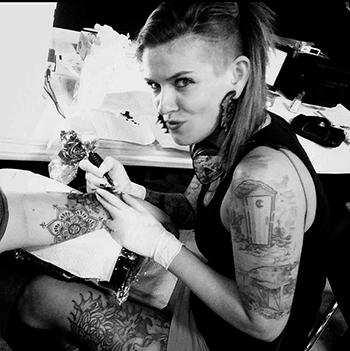 Crystal Mandrigues - View Tattoo Gallery - Email Artist



Appointment Only

Crystal is back from LA and Orange County! Crystal's passion for art goes as far back as she can remember. She loved it so much she used to get in trouble for drawing in school, and while she started with charcoal and pastels she has recently developed a liking for acylic, water color and her favorite being Oil painting. Crystal was ninteen when she got her foot in the door of a shop in Arkansas working as a piercer. She has been in the body modification industry for almost twenty years, got on the cover of a tattoo magazine right before starting tattooing and after completing her tattoo apprenticeship has tattooed for a total of twelve years. Since then she has landed on several tattoo magazines for herself and her work. Crystal enjoys working on traditional, Japanese, geometrical, nice color pieces as well as black pieces and lettering.

Crystal has had the pleasure of working with Kari Barbie, owner of Outer Limits, and cites Yvo ILa and Devin Mena, Erika Moser, and Bruce Chung as great influences of her work. Crystal has worked from the east to west coast over her twelve years of tattooing. She moved to Dallas for a year and half and then moved to southern California for ten years before finally moving back here to Dallas. If you would like to schedule an appointment with Crystal feel free to drop an email in the link provided, give us a call or swing by and schedule your next favorite piece.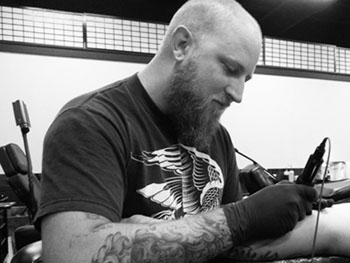 Matt Folse - View Tattoo Gallery - Email Artist



Availability for Consultations:

Mon-Wed: 12pm-10pm

Fri-Sat: 12pm-12am

Sun: Appointment Only

Matt has explored art since young childhood, starting with pen, ink and pencil. He started his two year apprentiship in 2010 and finished in 2012, and has around 4 and half to 5 years of professional tattooing experience with a diversity of styles and subject matter even though he especially enjoys flowers and animal related tattoos. If you'd like to set up a consultation be sure to email Matt through the link provided for an in person consultation at the main studio.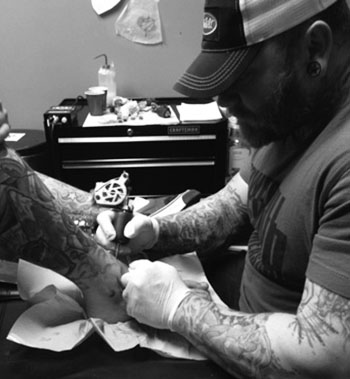 Memphis - View Tattoo Gallery - Email Artist



Appointment Only

Memphis has over 15 years of professional tattooing experience under his belt and spent twelve years tattooing in Dallas with a total of 8 years at Cat Tattoo. He enjoys bold, colorful tattoo work and providing the best cover ups possible. If you'd like to make an appointment or are interested in his work feel free to send an email in the link or text the link and number provided and all consultations are handled in person for the best quality work possible.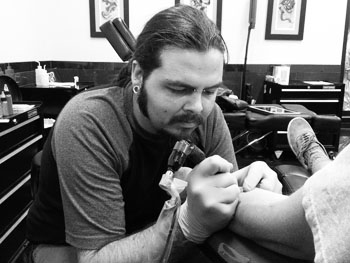 Calvin F. Xavier III - View Tattoo Gallery - Email Artist



Appointment Only

When Calvin turned 15 he wanted to explore graphic designing, and fine tune the art of designing characters much like the shows (Dragon Ball Z, ect) he grew up with as a kid. At 18 he transitioned to tattooing through a connection his brother in law provided, offically starting his two year apprenticeship when he turned 19. He spent most of that time either at the shop working on his art and skills, or as a welder's helper, putting in long 100 hour work weeks during this time until he finally finished and got his break in Denton 7 years ago.

He traveled across the US getting into portraits and realism, bouncing back and forth between New Orleans and San Antonio until he came to Dallas for his family. Calvin enjoys Neo Traditional, Realism and Japanese work. If you'd like to set up an appointment be sure to contact him with the link provided for an online or in person consultation if possible for the best quality work possible.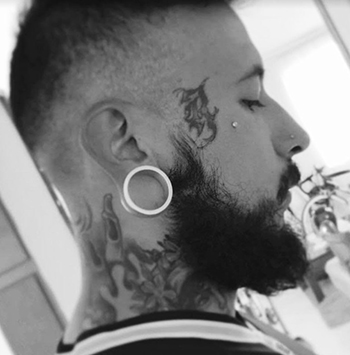 Ivan Rueda - View Tattoo Gallery - Email Artist



Availability for Consultations:

Wednesday -Thursday: 12PM-10PM

Friday & Saturday: 12PM-12AM

Sunday: 12PM-8PM

Colombian artist, Ivan Rueda, began his art career by studying graphic design in college when he realized he wanted to make the career change of a lifetime. Inspired by artists such as Ad Pancho, Jumilla Olivares, Dave Paulo, and Victor Portugal; he started slowly implementing what he was learning in the classroom onto tattoo designs. Six years later Ivan considers himself a versatile artist. He likes to master new techniques and styles to adapt to his clients but mostly specializes in black & grey and color realism tattoos. He is better known for his hyper realistic color palettes and smooth portraits.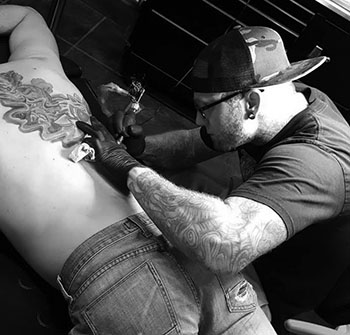 Zack Ross - View Tattoo Gallery - Email Artist



Appintment Only

Zack discovered he had a knack for art in high school with sculpting, and explored AP art classes until he decided he wanted to expand his expertise in a different direction after getting his first tattoo at 17. By 20 he was covered in ink and landed an offical apprentiship at 21 in Palm Springs, California where he compelted a traditional two-year apprenticeship. He has a total of 16 years of professional tattooing experience, having spent seven years in California during the first half of his career before moving to Texas. Zack enjoys everything about tattooing, and especially anything related to Neo-Traditional, Black and Grey realism and Illustrative pieces. In terms of size and scope he likes designing and working on sleeves as well as Japanese work. If you'd like to set up an appointment be sure to email Zack with the link provided to set up a consultation in person for the best tattoo quality possible.
Piercers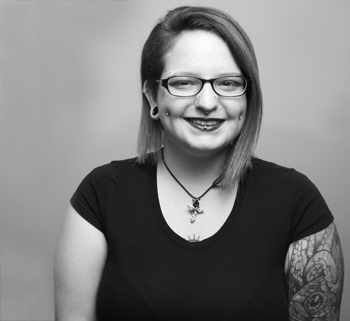 Lia Journey - View Piercing Gallery - Email Artist



Schedule:

Sunday 12pm-8pm

Monday & Tuesday 12pm-10pm

Friday & Saturday 12pm-12am

**For any questions concerning Lia's schedule please feel free to swing by the shop or call 972-387-0990**

Lia was offered a piercing apprentiship 8 years ago at the age of 19, having been a piercing enthusiast since high school. She was born and raised in Boulder, Colorado and spent the last four years working in New Orleans before moving to Dallas, Texas. Lia has spent a solid seven years as a piercing professional, and enjoys working with high-end jewelry to help clients get the best piercings possible. If you'd like to set something up ahead of time with Lia, any form of communication including calling, Instagram and in person consultations are preferrable over email.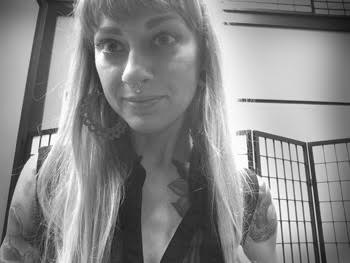 Brittany - View Piercing Gallery - Email Artist



Schedule:

Avalible for walk-in piercings; First come, first served:

Wednesday & Thursday 12:00 noon - 10:00 pm

Availible for walk-in laser; First come, first served:

Monday - Thursday 12:00 noon - 10:00 pm

**For any questions concerning Brittany's schedule please feel free to swing by the shop or call 972-387-0990**

Brittany Jo started her career in the medical field by completing a two year, state certified CNA program. While making rounds at local hospitals and Doctors offices, she was offered a dental assisting apprenticeship from Dr. Clyde R. Lee at Lee Dental in Frisco, Texas. During her time as a Dental Assistant, she gained first hand expereince with blood bourne pathogens, sterilization, and the oral cavity through maxillofacial surgeries, endodontics and periodontics.

Combining her formal medical training, State Certified Licensure, and decades of pigment knowledge from the tattoo artists, she elevates her approach beyond the average laser tech in clinics and med spas. She completed a piercing apprenticeship from the former head piercer at Cat Tattoo and has been the senior body piercing artist and senior laser tattoo removal technician for over 9 years.

Being a former avid piercee, she has the perspective of being on the other side of the needle and seeks to surpass her former piercing adventures. "I strive to give every client the experience I wished to have had; A sterile technique piercing, lifelong aftercare knowledge, and the most luxurious body jewelry available."